Benlui Celtic Queen at Gallantstaff..
Pet name Amber
D.O.B. 29.12.04
Sire. Herodotus Sodamtuff. JW
x
Dam Jaystaff Drennans Cherub at Benlui
Amber was diagnosed on the 17th March 2014 with Cancer,sadly on the 25th May 2014 Amber went to Rainbow Bridge,it was a very sad day at the Gallantstaff home,
Please go to the link Rainbow Bridge were you can see our tribute to our beautiful Girl Amber xx
AMBER
On the 17th March, we had some very bad new, our beautiful girl was
diagnosed with cancer, we are just devastated .
Amber ,she had like a cough well it wasn't a cough it was more like it was something stuck in her throat, we took her to the vets 3 times and they said they couldn't find anything wrong with her apart from the glands were swollen, they put her on antibiotics ,the first time we went, then they changed them to different ones, she was still not much better, so the third time we took her, they said her glands were still a little swollen and they gave us more antibiotics and some tablets to clear the air ways, after a couple of days still not much improvement so we asked for her to have an x-ray, it showed she had cancer, we then asked for the results to go to Liverpool hospital were they confirmed it was cancer of the lung,
They told us they could operate but its a very big operation and they couldn't tell us if she would pull through it and if they might find it had spread, they also told us if she did have the op she could live up to 12 months but no guarantees.
Our vet advised us not to go through with the operation,
me and Paul have thought long and hard ,we know it will cost lots of money to operate but that doesn't matter, but after talking to the vets again she could be poorly for a couple of months after the operation or wouldn't even come through it.
Amber still enjoys a walk in the fields, we take her every day with Murphy and she still loves running and she is eating well,so we thought let her have her time with us a happy time, she has lost a little of her muscle and the last couple of days she is sleeping a little more but still happy, She has been coughing up some blood but not a lot so far, We don't want her to suffer, so when the time come she doesn't want to go for a walk or she cant eat then its time we say goodnight to our little girl,
Amber's last walk it was heart breaking

Amber 9 years old December 2013
Love Mum ,Dad ,Murphy Jade Tara,Maisie and Conk
Amber with her Great Granddaughter Ary
Amber 8 years old December 2012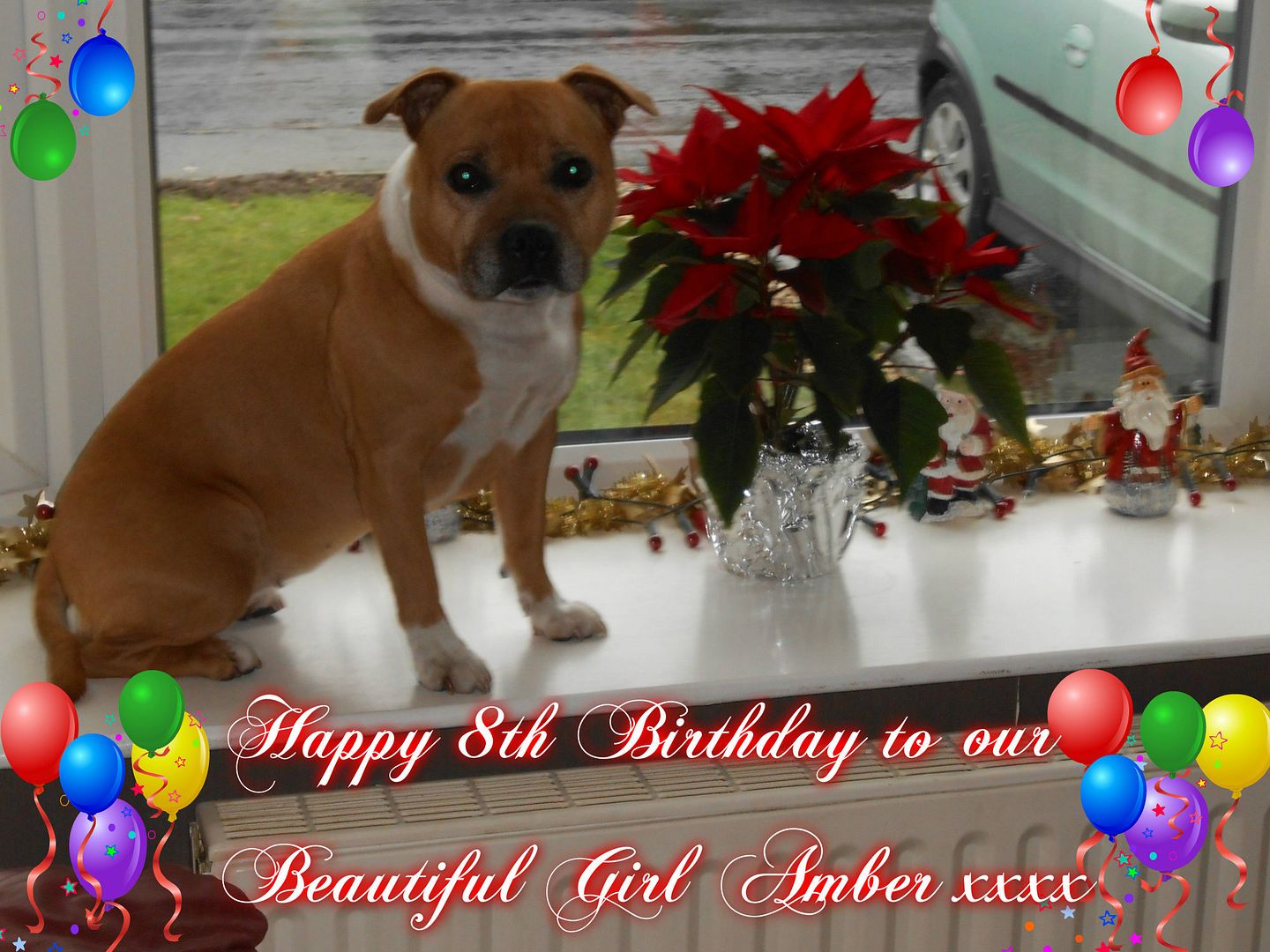 Always having fun
Mother and Daughter
3 Generations
Jade Daughter of Amber, Maisie Granddaughter of Amber ,Amber and Amber's Granddaughter Conk
Amber will be 5 years old this year and she is still as pretty now,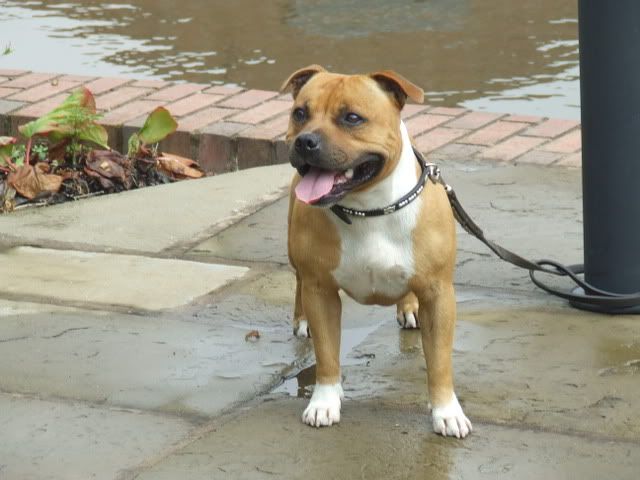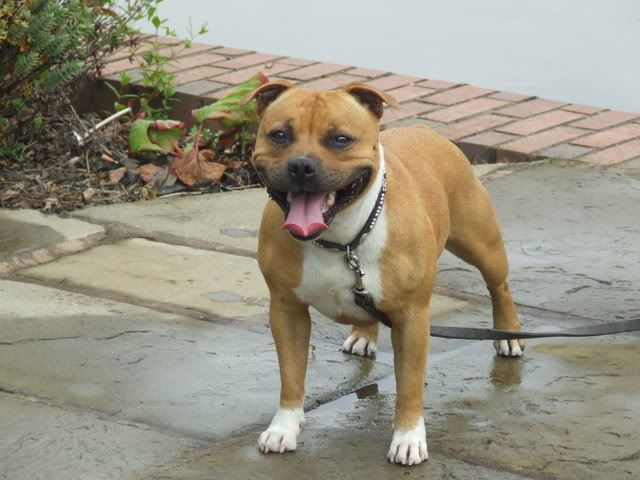 Amber's saying I can get into the pool all be my self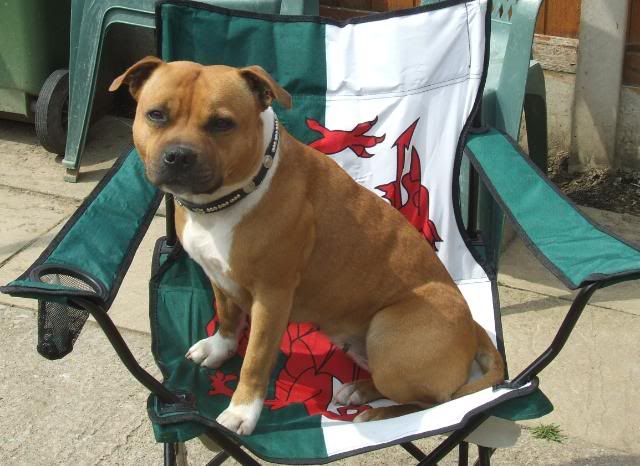 Let me play with you mummy, I'm a big girl now ,
Jade play on your own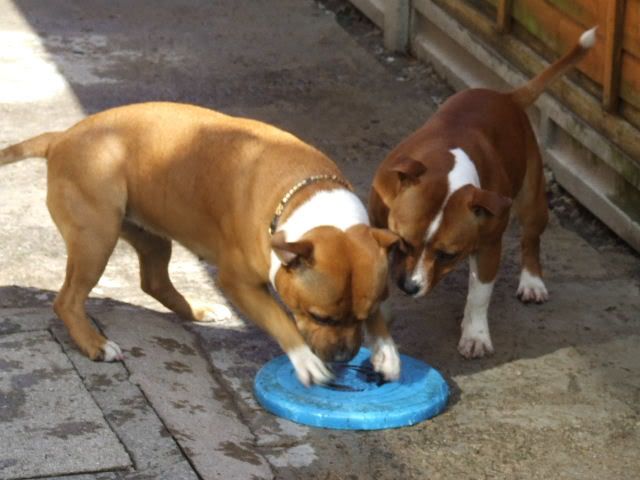 Just look at my dirty face, mum can tell Iv been digging the garden for her
It's that time of year when mum gets the swimming pool out it's not very big but mum is working on dad to buy a new one, the trouble is he hasn't agreed to it yet.

Mum has put the pool by our spring pole so now Im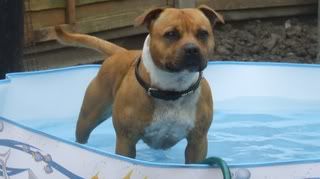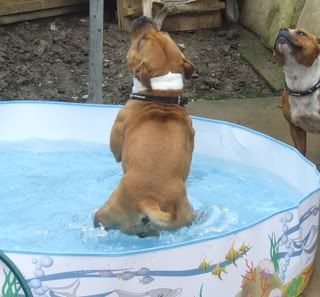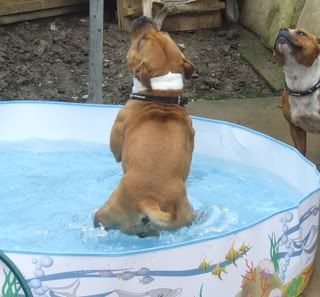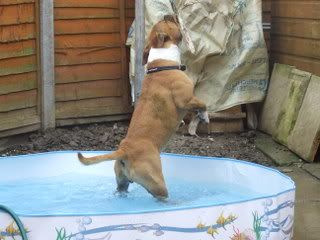 Now look who has come my daughter Jade, everything I do she has to do

Amber in her whelping box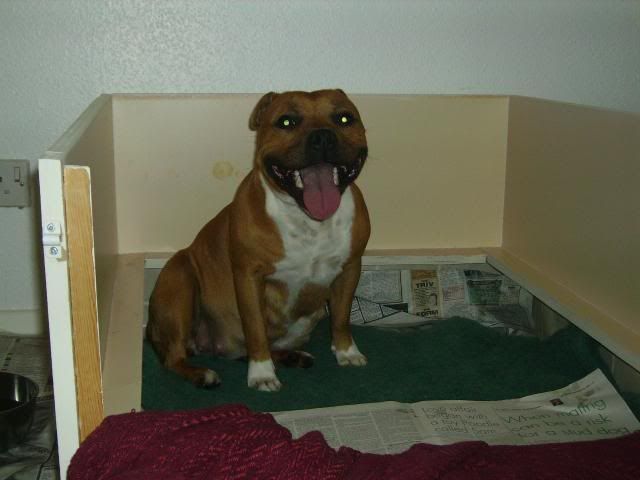 Amber and her 4 pups 1 girl and 3 boys
well done Amber
I will just sit here till mum puts the sweats back

Amber thinks she a frog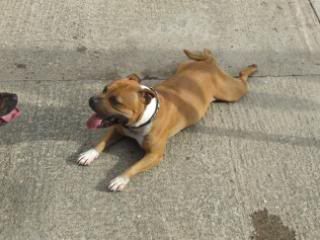 Amber watching a cat across the road, I hope he doesn't come down our drive
This is hard work, If I don't run fast Murphy will get the ball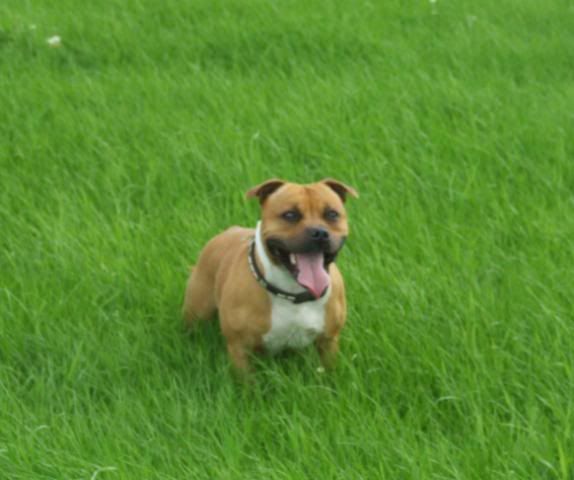 I think I need a little rest Iv been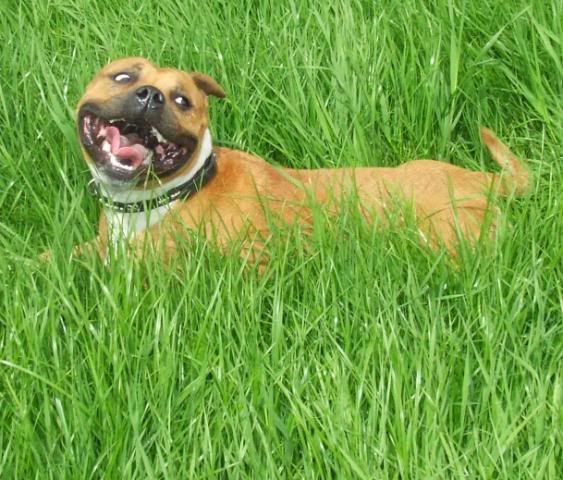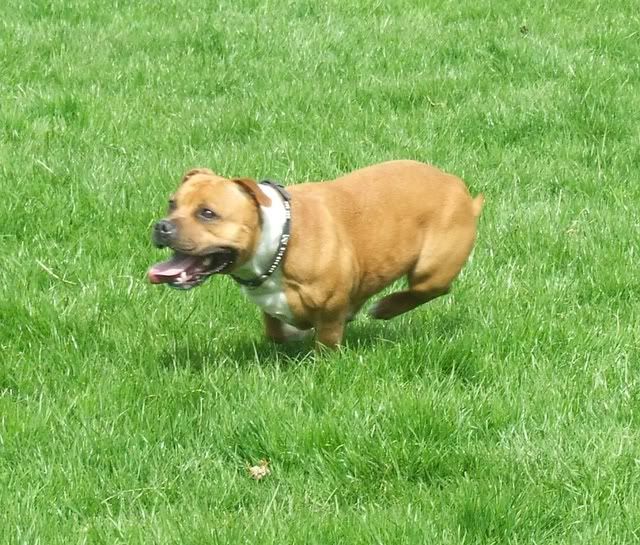 Everyday we take the dogs in the field and after they have a good run we take them for a drink to this water trough the farmer keeps in the field.
Well, today Amber went to the trough to have her drink

Then Amber decided that she wanted more than a drink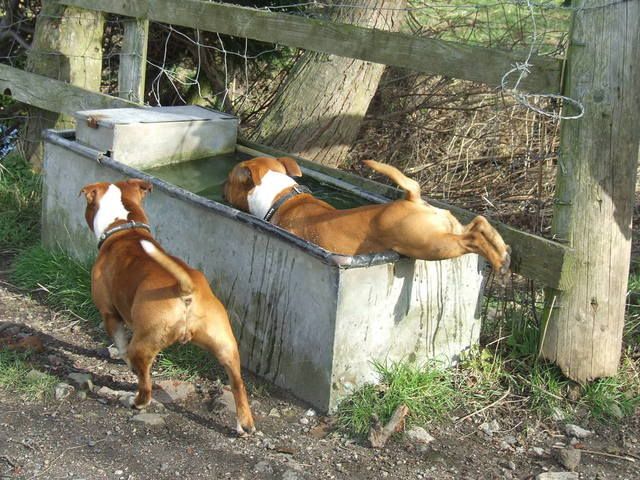 what happens next ................ yes , Amber thought she would have a bath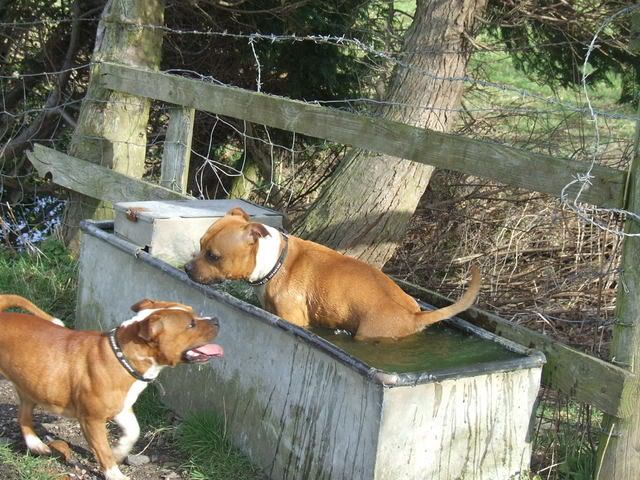 Jade is saying, Mummy that's not a bath, that is for the cows to drink out of Silly Mummy
Mum I'm not in the mood to have my photo taken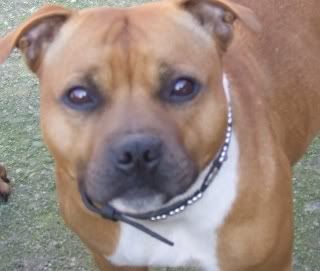 Iv been running so much I need a rest

Amber playing with the Boomer Ball she loves it but she makes alot of noise
Mum Amber and Daughter Jade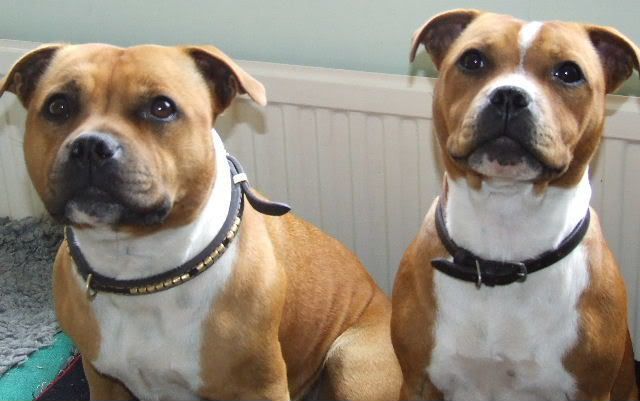 Amber's always Happy
I like Tara, well mum calls her momo we are best friends she doesn't get on my nerves like Jade does
Amber at 12 months old
My dad supports Liver pool and he has bought me a Liverpool shirt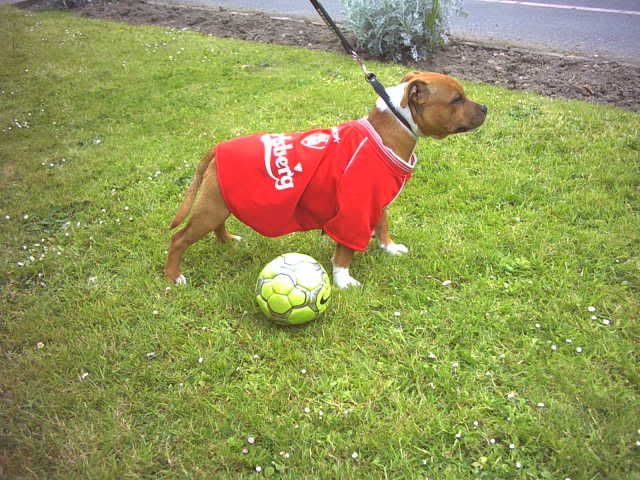 Amber at 7 months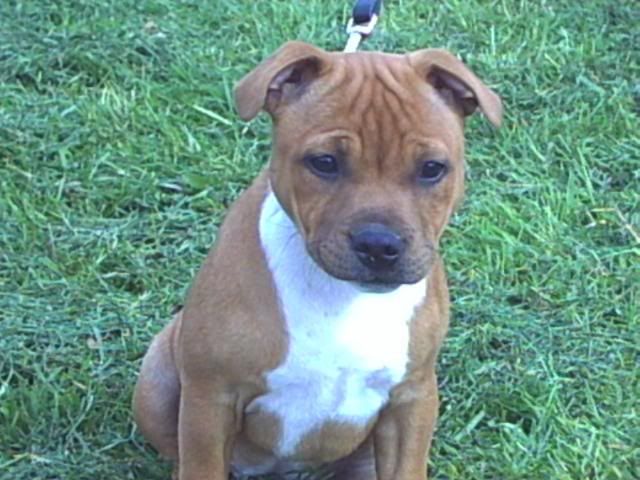 Amber at 8 weeks with Murphy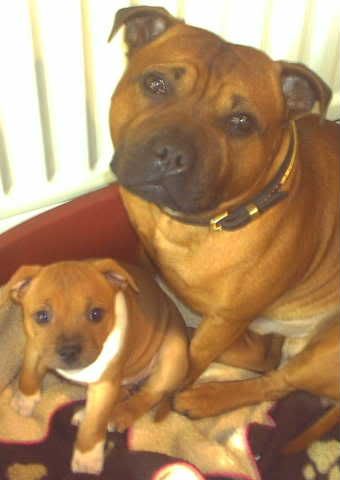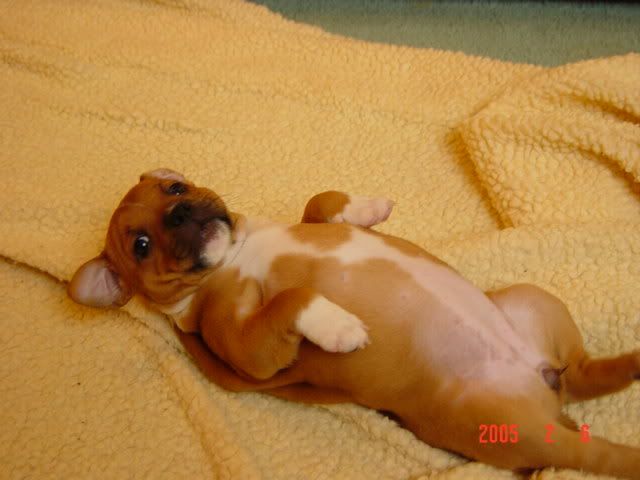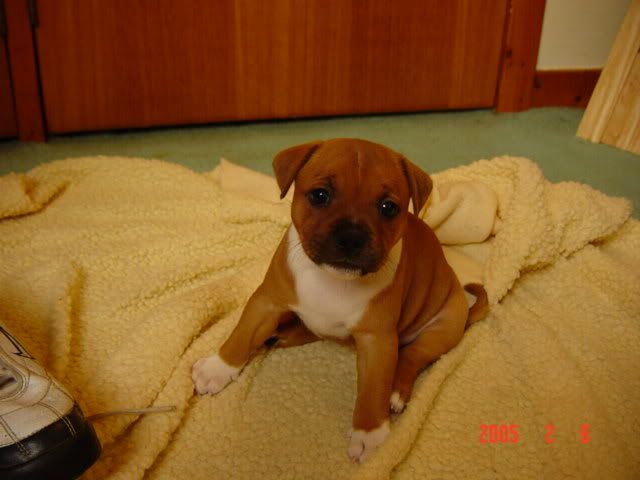 Steven Garard was kind enough to send us this signed photo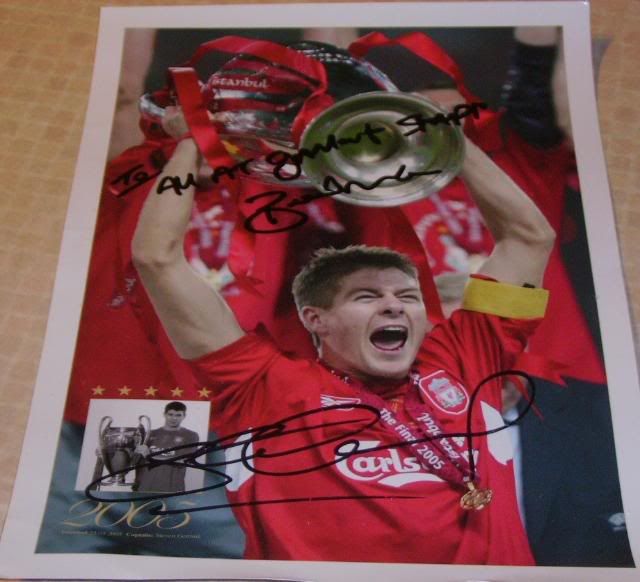 This is our girl Tara
( Seastaff Wild Honey at Gallantstaff )
D.O.B 01.10.05
Sire. CH. Jackstaff Fasination.
Dam . Stokes Red Rose
More photo's of Tara on the Gallantstaff Gang page

TARA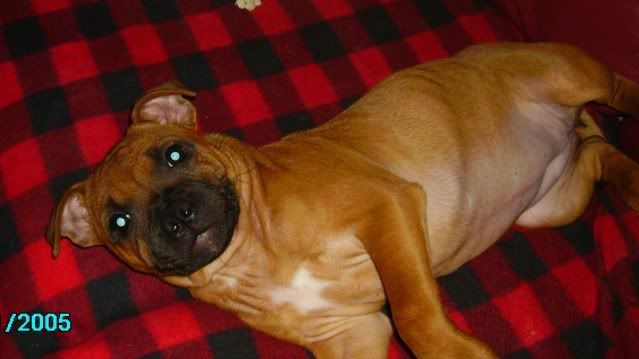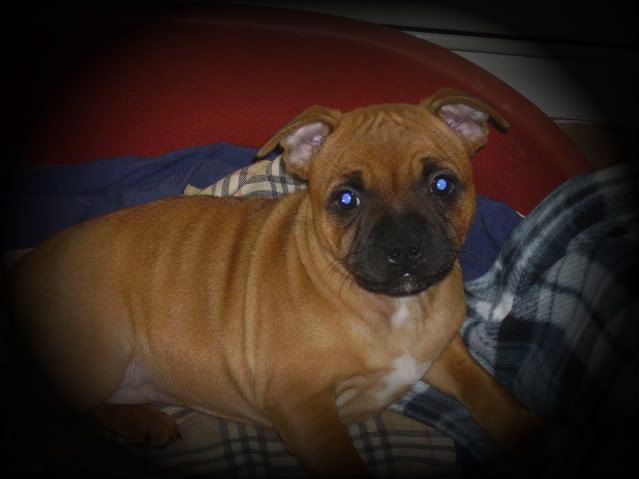 Wishing our lovely girl Tara a very Happy 9th Birthday
Tara looking after Jade she is lovely when she's a sleep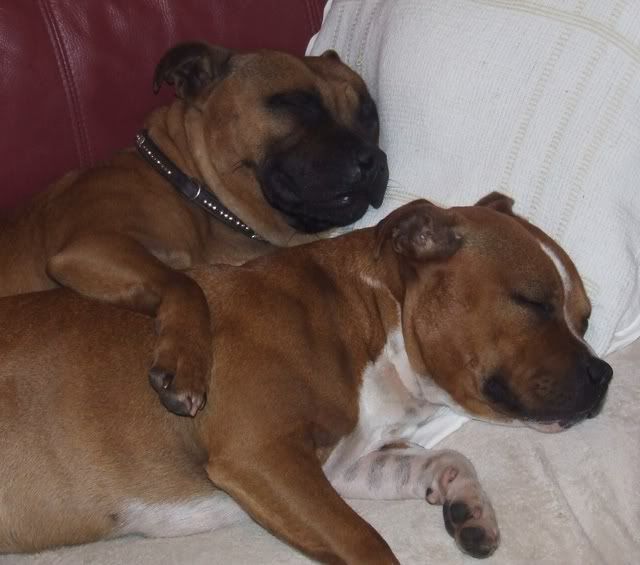 Me and Jade went with mum and dad today to a pub, dad said he will take Amber and Murphy next weeek.
We had a lovely time and dad said he would show us the boats.
Giving dad a kiss
Look at those boats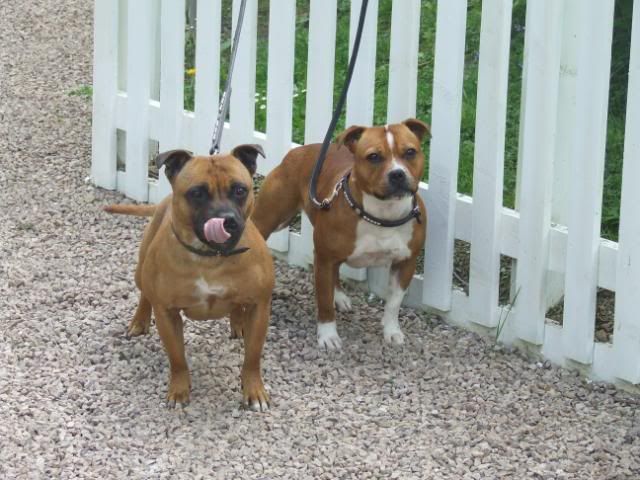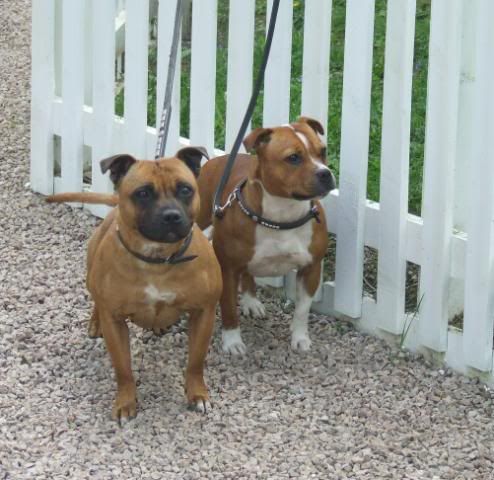 And here are some photo's mum took of me on our day out.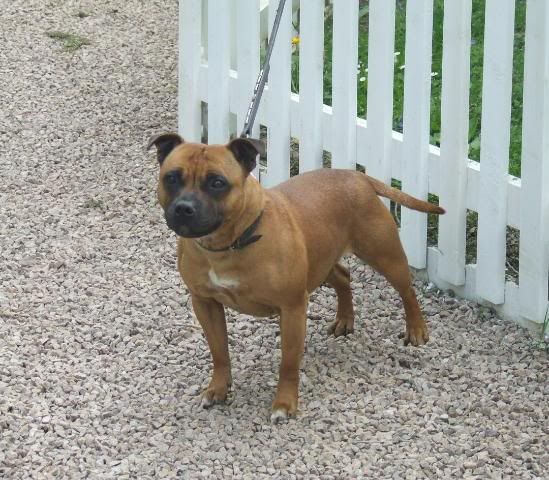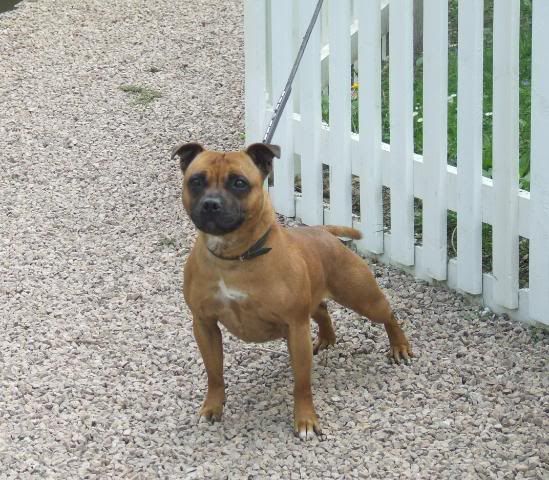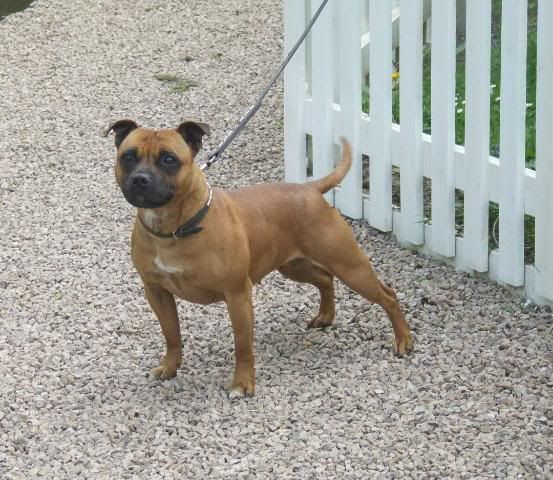 I Just love going in the field for my run , but I'm always last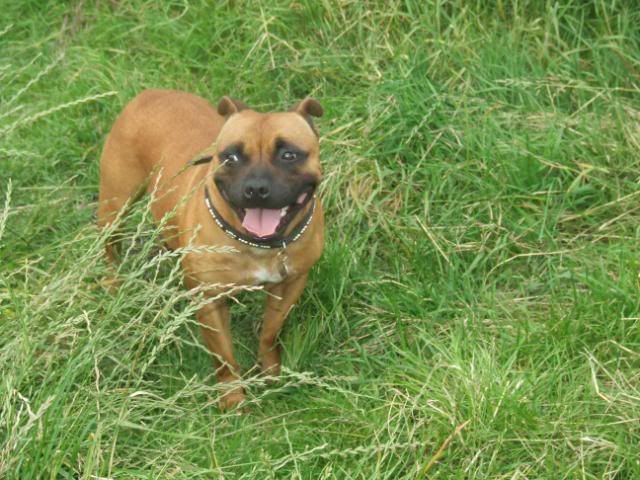 This is hard work, I think I will have a break
My dad teaching me how to stand like Murphy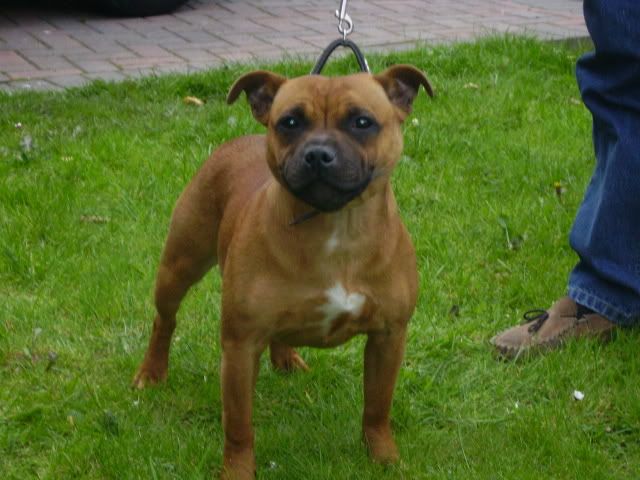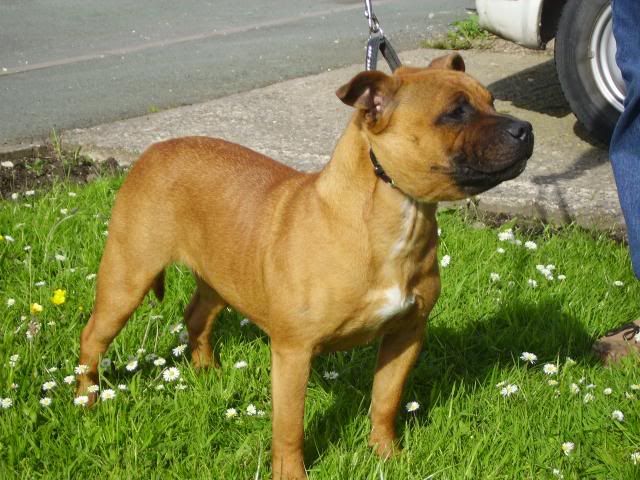 Why wont nobody play with me

look everyone I can smile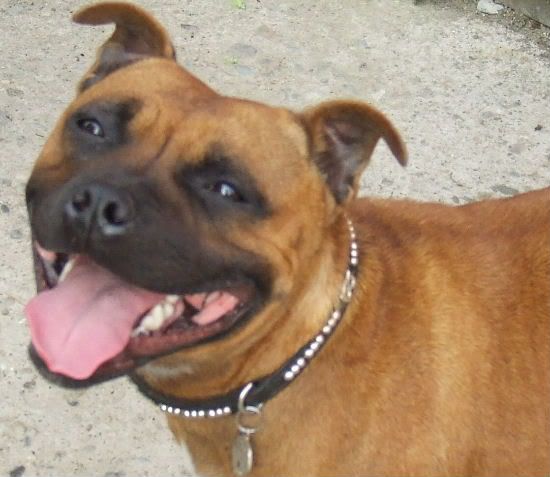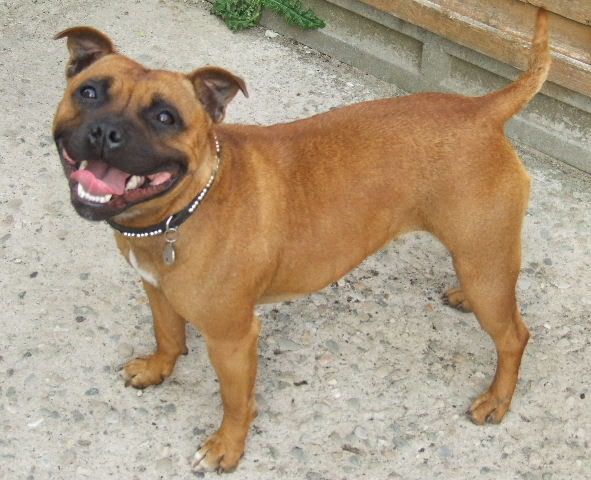 Mum says Im a pretty girl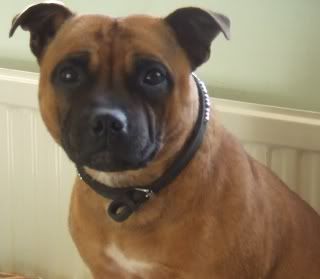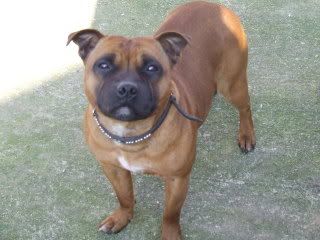 I like the Boomer Ball it will keep me fit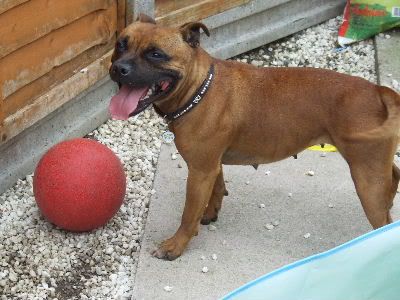 Me and Amber behind bars mum said she is cleaning so we have to wait it wont be long till we mess it all up again

It wasn't me mum it was Jade who made all that mess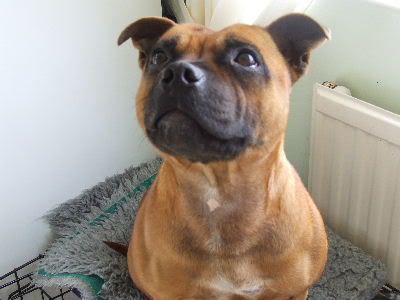 I'm such a pretty girl, ( am I )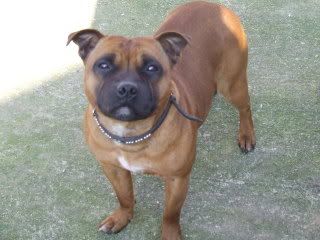 Im a clever girl I can fly